The 'Quarter of the Dancing Couples' by KCAP - urban transformation of an industrial estate in Wangen-Brüttisellen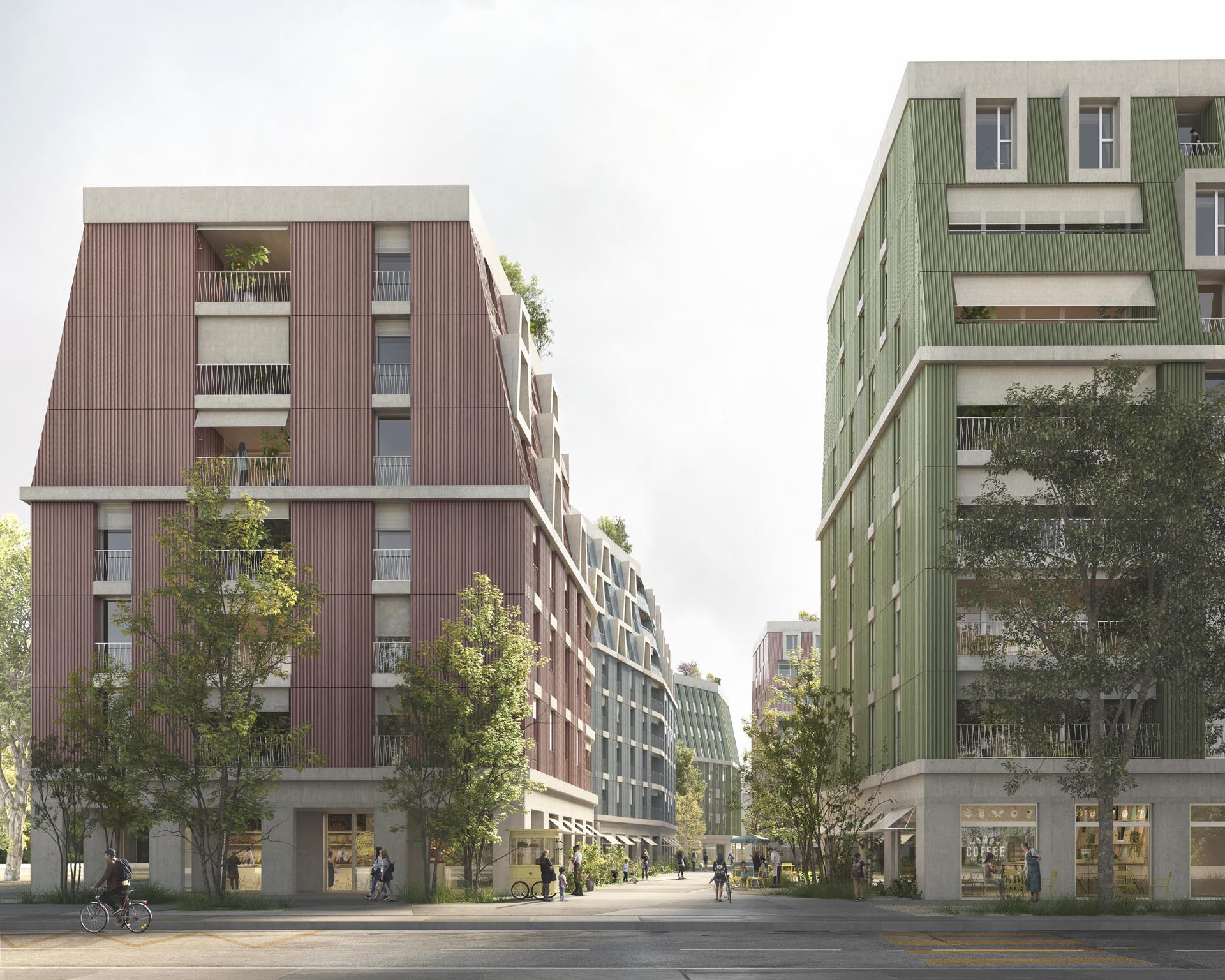 Zurich, May 4, 2023 - With the 'Quarter of the Dancing Couples' KCAP (urban design and architecture), Studio Vulkan (landscape) and Raumanzug (sustainability) win the competition for a new residential neighbourhood with 279 apartments in the vicinity of Zurich. Wangen-Brüttisellen is a fast-growing municipality which is planning to densify. One of the plots designated for redevelopment is the Erni-Areal, a former industrial estate located close to the railway station. The aim was to create a dense and liveable neighbourhood in a contrasting, almost cacophonous context.
Mobimo, one of the leading real estate companies in Switzerland, invited five teams to redevelop the former Erni-Areal in Wangen-Brüttisellen. This partially built up site is to be transformed into a high-density neighbourhood with housing, offices, retail and gastronomy. The plot is surrounded by small-scale housing, compact tower blocks and various industries - including a high-bay warehouse for Coca-Cola. With the company currently expanding its activities, this increases the differences of scale. Furthermore, noise pollution heavily influences the site since it's located near a highway exit, along a busy thoroughfare, and directly under the approach route to Zurich airport. Such a challenging location called for a precise design solution.
KCAP proposed a concept that reacts to the heterogeneous context with a very clear stance of its own. It confidently confronts nearby large-scale projects such as Brüttiseller Tor, the Coca Cola high-bay warehouse or the Ringstrassenquartier. Instead of grand gestures and high points, the quarter offers a contrast with compact, low-rise development. Its high density allows for a world of its own inside and thus creates different cosy, small-scale niches. A backbone of interlocked public spaces create a liveable, sheltered environment.
The staggered arrangement of the buildings acts as a noise barrier, doing justice to the complex noise situation while retaining an open character. Housing is to be found mainly in the more protected blocks, while the busy thoroughfare and highway exit are bordered by blocks with flexible office spaces and penthouse apartments. At the same time, Erni-Areal remains embedded in its context through a variety of physical and visual connections. Many small openings and entrances along the hard edge allow for a high degree of permeability.
The new quarter is marked by four different typologies: the atrium house, the linear house, the point house and the twin house. Each typology is deployed twice, creating pairs which appear to be 'dancing' with each other due to their arrangement and orientation within the plan. Limiting the number of buildings and apartment typologies made for coherence as well as optimization, creating a measured balance between repetition and variety. "We took the Waltz, a dance for two in a closed stance with quick turns and a fixed step pattern, as our inspiration," explains Ute Schneider, partner at KCAP.
All four typologies are united by a slanted roof that includes the three top floors, creating an eave above the fourth or fifth floor. This introduces a human scale, and ensures ample natural light for the public spaces and apartments. Together with the different materialisation of the ground floor, the façades are visually structured into three layers: ground floor, body and slanted roof.
By carefully positioning the four 'dancing couples', KCAP created a sequence of public spaces in the interior of the neighbourhood. These are all characterised by their own, specific qualities: the innermost courtyards are lushly planted with trees, the areas in front of the buildings act as a buffer zone between the public and the private realm, and the car-free streets are clearly recognizable as such. Due to their naturally planted and shaded design, these spaces also serve as a retention area for surplus rainwater, a cooling measure and a microclimate of their own.
Sustainability is an integral part of all KCAP projects and Erni-Areal is a clear example of our approach. The building blocks are designed to be partially built of recycled concrete - used only for the basements, ground floors and building cores - and partially in prefabricated wood. This hybrid approach has financial as well as environmental benefits, because it streamlines the complex building process on this challenging location. In addition to the measures employed to reduce noise, counter heat stress, retain water and improve the microclimate, Erni-Areal features PV panels, green roofs, heat pumps, and a maximum of natural ventilation. The project is both compact and ecological, targeting the SNBS (Standard Nachhaltiges Bauen Schweiz) requirements.
The existing ERNI headquarters will be preserved and expanded with a greenhouse, which is set to become a community centre with a focus on urban food production. At night, this glass pavilion will serve as a beacon for the new neighbourhood. Ute Schneider: "We wanted to maintain part of the area's industrial atmosphere, and add variety as well as coherence, so as to create a true neighbourhood feeling."
Location: Zurich, Switzerland
​Client: Mobimo AG
​Year: 2022 - current
​Status: ongoing
​Program: 36.000 m2 (GFA), transformation of an industrial area into mixed use neighbourhood with 279 apartments, office and commercial programme
​Role: Urban planner and architect
​Collaborators: Studio Vulkan (Landscape Architect), Raumanzug (Sustainability Consultant)
Visuals and drawings: © Filippo Bolognese, © KCAP
Note for the editor / not for publication
KCAP is a leading international design firm specialised in architecture, urbanism and landscape architecture. KCAP was founded in 1989 by Kees Christiaanse and is led today by seven partners: Xavier Blaringhem, Jeroen Dirckx, Ruurd Gietema, Anouk Kuitenbrouwer, Irma van Oort, Ute Schneider and Edward Schuurmans. KCAP holds offices in Rotterdam (NL), Zurich (CH) and Shanghai (CN) and works with a staff of more than 125 talented international professionals on a wide range of projects throughout Europe and Asia.
Li-Anne Krol
​Public Relations Manager
​[email protected]
​www.kcap.eu
​Tel. +31 10 78 90 300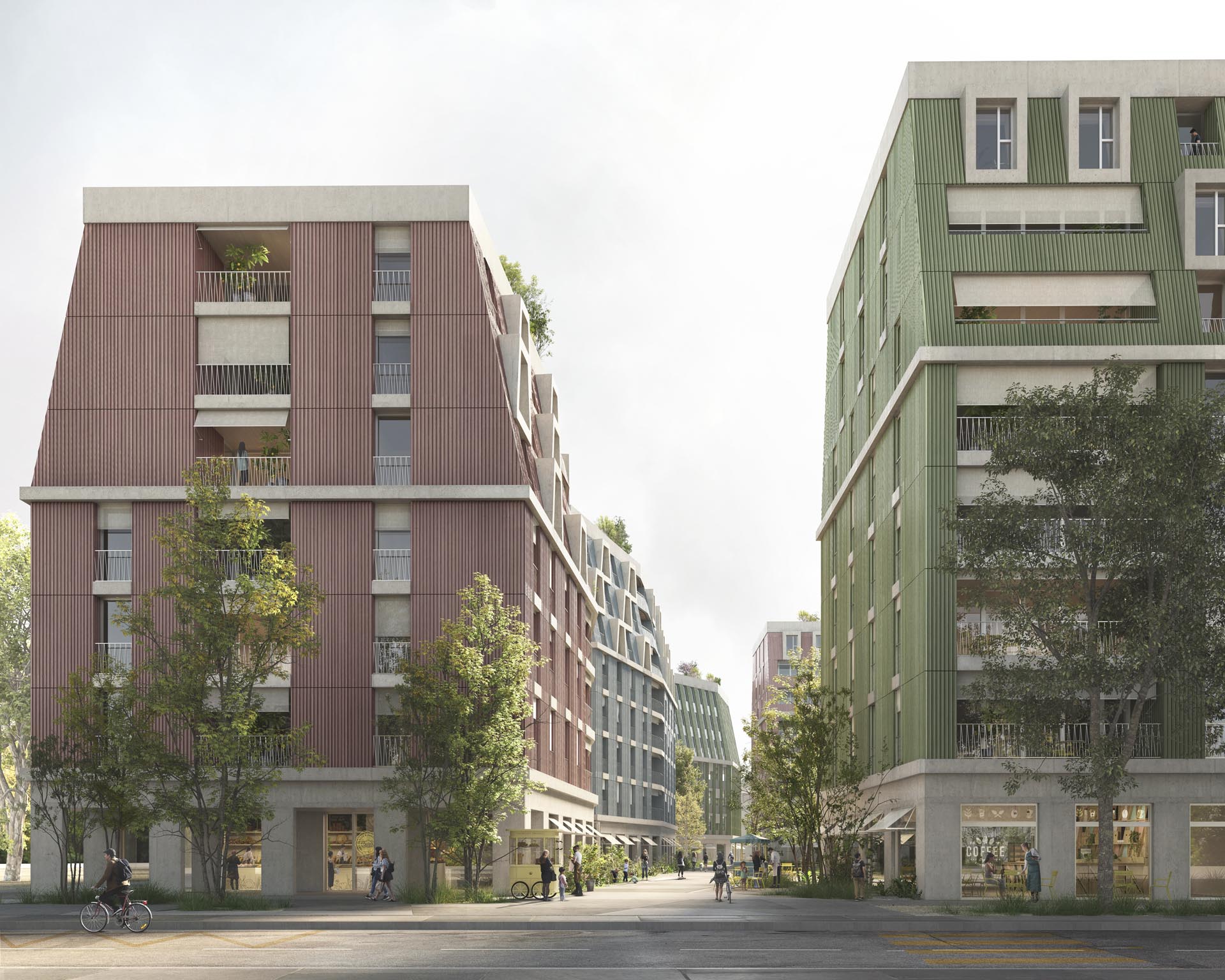 Erni Areal - KCAP
<p id="isPasted">Mobimo, one of the leading real estate companies in Switzerland, invited five teams to redevelop the former Erni-Areal in Wangen-Brüttise...
www.kcap.eu
For more projects and press kits, please visit our Press Room: www.kcap.eu/pressroom