KCAP and V2S win international competition for Altiplano, a sustainable living and working complex in Toulouse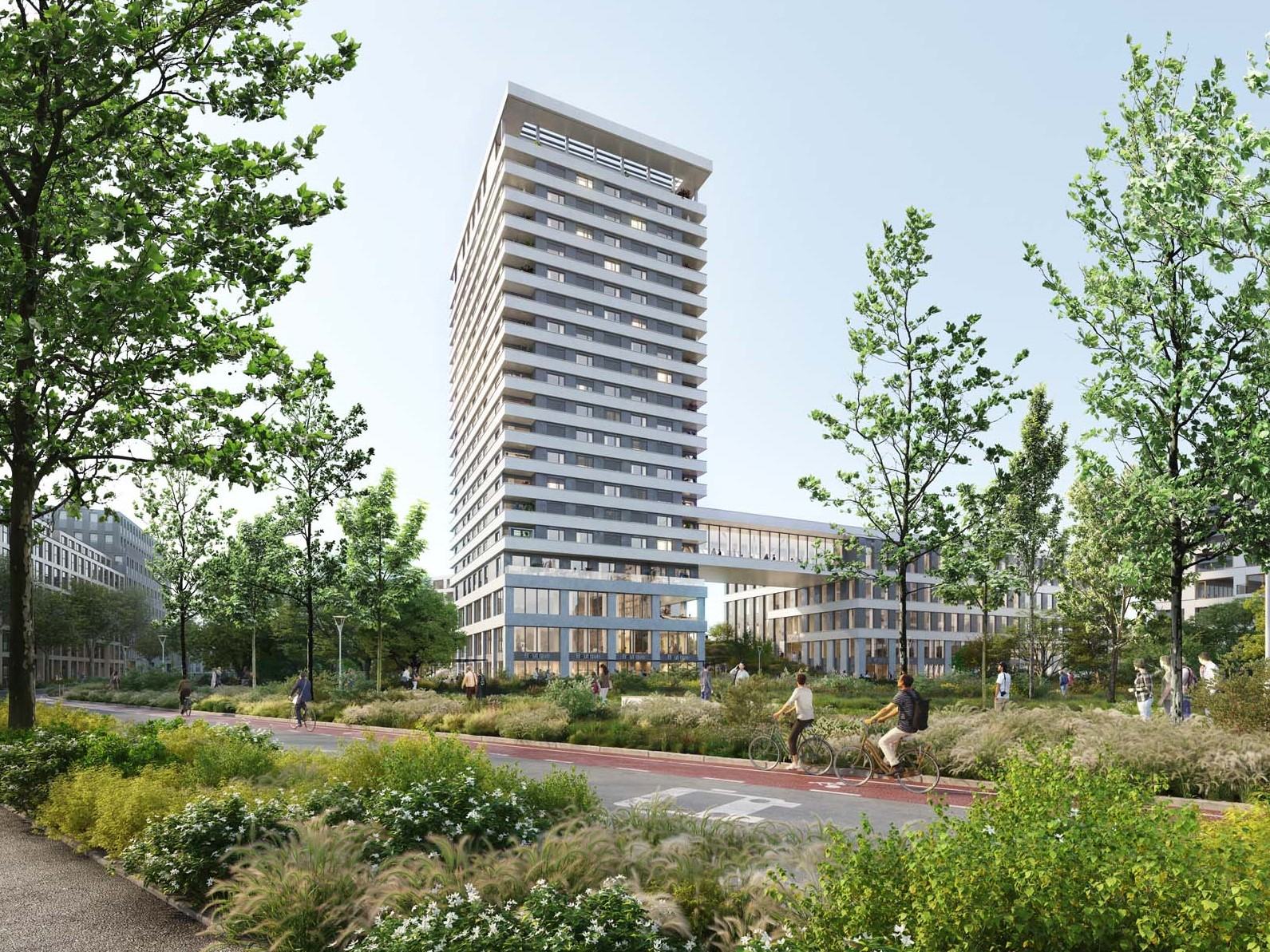 Zurich/Paris, July 5, 2023 - KCAP and V2S have won the international competition for Altiplano, an iconic complex for living and working in ZAC Aerospace - a new neighbourhood on the edge of Toulouse, designed by David Mangin from Agence Seura. The design comprises a high-rise with co-living apartments and a lower volume with offices and co-working spaces, connected by a 25 meter wide arch. This arch serves as the visual completion of a historical runway, the Piste des Géants, which is being transformed into a linear urban forest. The complex's facade will be constructed in lightweight wood, an explicit wish of both client Linkcity and KCAP. The result is a sustainable landmark that fits the location, a symbol for the city's history as a place for innovation.
​​
​Toulouse is an important centre for aviation, research and education; the city is home to Airbus and a number of major universities, and wants - and needs - to expand. The municipality has earmarked Montaudran, an industrial zone to the southeast of the centre, for transformation into an urban neighbourhood. Although the area is on the outskirts of the city, it has great historical value: Montaudran was home to one of Toulouse's former airports, which dates back to the pioneering days of aviation. So although the area lies at some distance from the centre, it is at the heart of European aviation, and of Toulouse as a hub for aeronautical industries.
​​
​The former airport runway - the so-called 'Piste des Géants', where aviators like Antoine de Saint-Exupery flew for the famous Aéropostale company - serves as the backbone of the new district and will be transformed into a 2 kilometre long linear forest. Altiplano is located exactly at the end of this runway: a prominent, symbolic location which requires a landmark with an ambitious, iconic design. Therefore, KCAP conceived a tower to serve as a marker, flanked by a lower, horizontal volume. The tower, however, is not positioned directly in the axis of the runway. Instead, the Piste des Géants is concluded by a 25 meter wide monumental arch which connects the tower to the low-rise volume, and which spans a staircase that connects the runway to the adjacent, uphill neighbourhood.
​​
​The challenge was to create an architectural statement that is monumental but also sustainable, embedded in the city and functional. The mixed-use program consists of co-living apartments with support services - which are housed in the tower - as well as offices and co-working spaces - located in the low-rise and the arch. For the co-working spaces, KCAP created an attractive, large open plan office with a loggia that offers stunning views of the linear forest, making the most of its unique setting. The co-living apartments, small units for young professionals, researchers and starters, share a rooftop terrace that overlooks the neighbourhood and the city centre. "This makes for generous outside spaces and great views for all the users," explains Xavier Blaringhem, partner at KCAP.
​​
​"Our office has a strong drive to create liveable cities. Seeing how the brief called for a monumental gesture, this presented us with another challenge. Our solution was to look for the human scale: in the dimensions of the arch, and also in the design of the ground floors - especially those of the lower volume", explains Xavier Blaringhem. The building volumes are adjusted to their location and the way they're approached. For example, the road directly behind the complex - rue Tarfaya - is on a higher level than the runway. The road sees heavy traffic, and access to the building here is less easy to read. But rue Tarfaya is also where the bus- and metro stop will be located - so it was all the more important to adjust the ground floor to the human scale. ​
​​
​The staircase underneath the arch connects the Piste des Géants to rue Tarfaya, covering the height difference. The staircase, however, is not merely used for circulation, but also serves as an inviting collective space where people can spend time together, sit in the shade, have lunch. It is lushly planted and acts as an extension of the linear forest. This doesn't just benefit the users, but also helps animals in bridging the barrier between the runway and rue Tarfaya: it is more than a visual or urban intervention, but also has an important ecological function. As an additional measure, the arch's roof, which is not accessible, acts as a lifted ecosystem and a catalyst for urban biodiversity.
​​
​Toulouse, as a city, is very aware of the effects of climate change; not only does the town regularly suffer from heatwaves, but the municipality is also conscious of the need for higher sustainability and a lower carbon footprint - in all fields, including the building industry. With Altiplano, KCAP aims to set the example, especially in their façade design, to improve the performance and reduce the carbon footprint of our projects. There is a direct connection between the choice of materials and climate mitigation. The façade will be executed in lightweight wooden prefab elements, which have only been applied a handful of times at this height in France; the wood will be covered with metal cladding, which adds texture to the building. For this cladding, KCAP decided to use a light colour instead of the 'classical' pink of Toulouse. Xavier Blaringhem: "Altiplano confirms Toulouse's historical role as a centre for innovation. For this reason, the city decided to present the project at MIPIM this year. In addition, the project is a milestone for KCAP, emphasising our international presence as architects - so we're proud to showcase it to the world."
​
Location: Toulouse, France
​Client: Linkcity
​Year: 2022 – present
​Status: Ongoing
​Programme: 18.266 m2, co-living en co-working spaces, offices and retail
​Architect: KCAP
​Collaborators: V2SArchitectes (local architect), Woodstock (landscape architect), TERRELL (structure), BETEM (mechanics), GAMBA (acoustic), ELAN (sustainability), VERITAS (safety and regulations), Bouygues Bâtiment (project management)
​Drawings: ©KCAP
​Renders: ©Lotoarchilab
Note for the editor / not for publication
KCAP is a leading international design firm specialised in architecture, urbanism and landscape architecture. KCAP was founded in 1989 by Kees Christiaanse and is led today by seven partners: Xavier Blaringhem, Jeroen Dirckx, Ruurd Gietema, Anouk Kuitenbrouwer, Irma van Oort, Ute Schneider and Edward Schuurmans. KCAP holds offices in Rotterdam (NL), Zurich (CH), Shanghai (CN) and Paris and works with a staff of more than 100 talented international professionals on a wide range of projects throughout Europe and Asia.
KCAP Public Relations
​Tel. +31 10 7890 300
​[email protected]
​www.kcap.eu
Altiplano - KCAP
<p id="isPasted">Toulouse is an important centre for aviation, research and education; the city is home to Airbus and a number of major universities, and ...
www.kcap.eu
For more projects and press kits, please visit our Press Room: www.kcap.eu/pressroom