KCAP Complete Station Post Building, in The Hague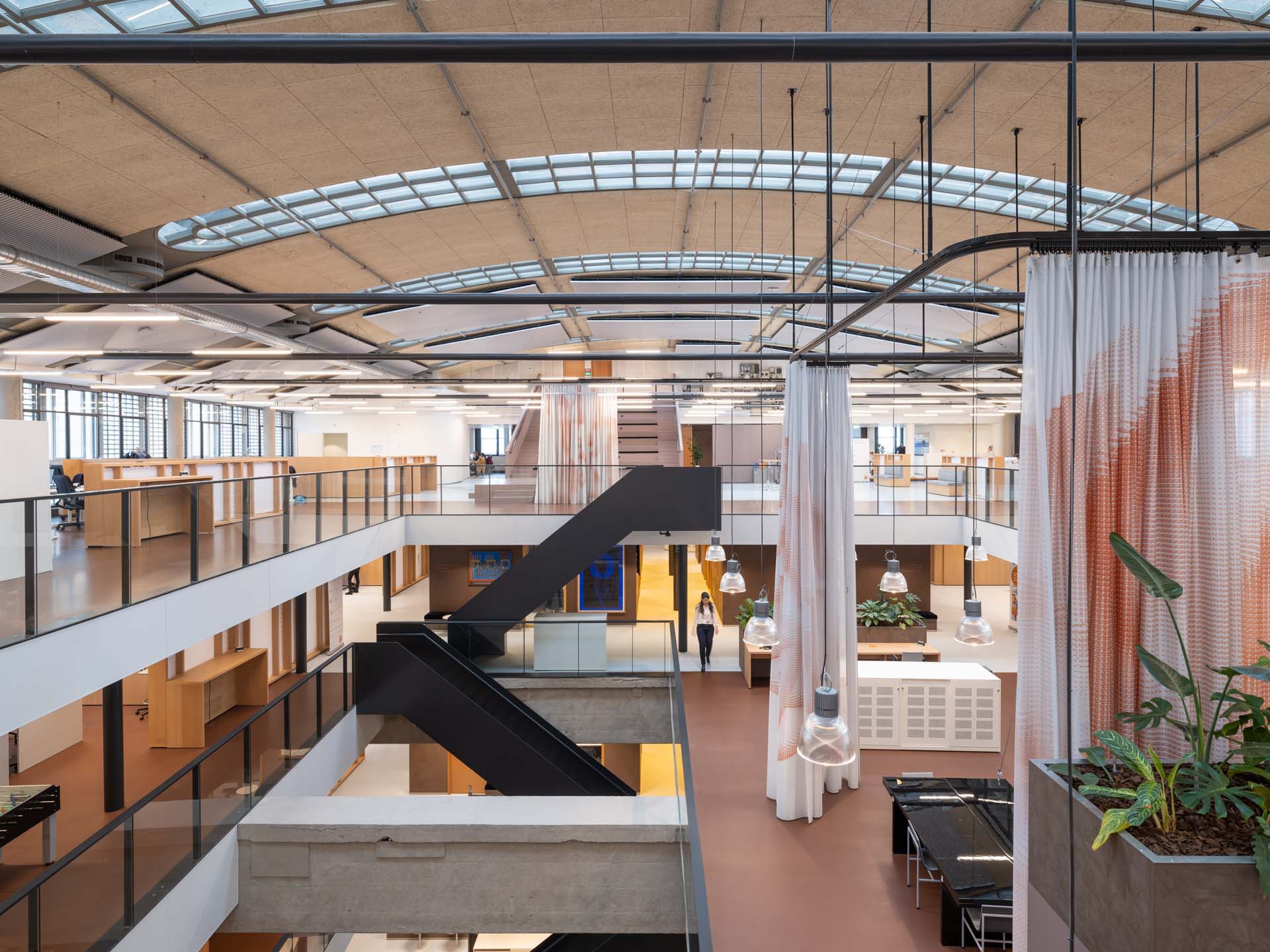 Rotterdam, 19 January 2023—KCAP and Kraaijvanger Architects transformed the Stationspostgebouw, a former postal sorting centre next to the Hollands Spoor train station in The Hague, into a sustainable and social work environment for the 21st century while respecting the original architecture. Renovation of the national monument was commissioned by LIFE, SENS real estate and PostNL, the national postal service and former occupant. The building is home once again to PostNL, now serving as its headquarters.
The Stationspostgebouw, designed in 1939 by Chief Government Architect G.C. Bremer, is of great historical, architectural and urban importance. The 30.000 m2 building, regarded as a textbook example of Functionalism, was one of the most modern postal sorting centres in the Netherlands on completion. It stands out for its distinctive pale brick facade with curved forms and glass block windows, which conceals high but deep floor areas. Conceived as the most prominent building along the rail, it has always been a landmark for and within the city of The Hague.
KCAP designed the architectural transformation for developers LIFE and SENS real estate, while Kraaijvanger Architects was responsible for the interior design on behalf of PostNL. One of the transformation's key results is the increased daylight access, achieved by modifying the facade and inserting vides. Because of its status as a monument, however, it was not possible to make major structural changes. An additional challenge was to renovate the building in such a way as to bring back the monumental character. Therefore, the restoration concept focused on the main load-bearing structure, keeping the existing beams and columns intact. Especially since the Stationspostgebouw is one of the first examples of the use of prefab concrete columns in the world.
The Stationspostgebouw also had to meet the most ambitious sustainability requirements. It has been redesigned according to WELL and BREEAM standards, and is the first national monument to be certified with the highest achievable energy label 'A' in the Netherlands. A glass 'second skin' on the inside of the building provides an almost invisible layer of insulation. In this way, the monumental facade was preserved, while the building simultaneously met the requirements. This solution also saves a considerable amount of energy, helps to reduce noise from road and rail traffic, and is supported by further energy-saving measures. In line with circular economy principles, existing materials are re-used wherever possible.
The glass block windows, combined with skylights, originally provided the building with ample light. However, due to the depth of the floors, this proved insufficient for a modern office environment. To increase the amount of daylight on the lower floors, KCAP inserted vides throughout the building. These staggered vides, at times wide and at times narrow, create a lively interplay between single-height and double-height floors, resulting in an impressive atrium that opens up the building and makes people 'see and be seen' - the new office's vibrant heart.
This intervention also recalls the grandeur of the machines that once dominated the space. Irma van Oort, partner at KCAP: "The atrium, surrounded by cascading floors and traversed by bridges and stairs, can be read as a metaphor for the conveyor belts and sorting machines that used to deliver mail directly from the station." These informal routes help people to get together but also to explore the space by individual means, fostering a pleasant, spontaneous atmosphere. ​
The first floor houses the 'Community Centre' with a reception, café, common areas, meeting zones and workspaces. The upper floors have a flexible set-up, which allows a variety of workplace concepts to be offered and arranged according to different users' needs. Efficient floor plans and innovative technical features also allow for flexibility in the future. "Crucial to the transformation is creating an office building for a new way of working, making the work environment feel like a living room: widely usable, but also secure", says Irma van Oort.
The interior design by Kraaijvanger Architects responds to PostNL's need for this new way of working, focussing on flexible collaboration, versatile use and employee well-being. "The spatial layout and atmosphere of the monumental building are unique: the glass blocks facade, the deep floor areas and the powerful structural features. Together with KCAP's bold intervention to open up the concrete floors, these qualities have been leading in the mapping of the interior's different areas", says Chantal Vos, associate partner at Kraaijvanger Architects.
A particular challenge was to retain as much daylight as possible while dividing the very large floors into smaller, more intimate units. The result is a social working landscape focussed on exchange and connection. Chantal Vos: "Our environment has a major impact on how we learn, work and live, think and feel. Many offices are too closed and isolated or completely open and too exposed. A good workspace is all about balance, an environment where people feel at home". Therefore, Kraaijvanger Architects applied the typology of a house to the Stationspostgebouw. Principally, a house has partially defined spaces and a diversity of room sizes, which are connected to each other in different ways with different levels of privacy. Using this principle for an office space, inspiring spaces were created for a variety of activities, in small and larger groups. By linking the informal and formal, open and enclosed areas, the building's new spatiality has been preserved.
Kraaijvanger Architects sought a representative architectural language to reinforce the monumental palette. Since the materials and functional design speak for themselves these have been applied unconcealed and undecorated. "The result is a powerful collaboration of constructive expression, a unique mix in which the monument and its interior enhance each other. Together, they form a singular visual language that appeals to people of all ages", says Chantal Vos.
KCAP is also responsible for the HS Kwartier's overall urban vision, the Stationspostgebouw is the first completed project within this plan. "The transparent and accessible design ensures that the building becomes part of its surroundings", said Irma van Oort. "In this way, the Stationspostgebouw acts as an important stimulus for the liveliness of the HS Kwartier and ensures its human scale. That is exactly why the return of PostNL as the building's user is of great value to the area's DNA."
Location: The Hague, the Netherlands
​Client KCAP: LIFE, SENS real estate
​Client Kraaijvanger Architects: LIFE, PostNL
​Year: 2018-2022
​Status: Realised
​Program: 30.000 m2 renovation and transformation of a national monument into a multifunctional office building as headquarters for PostNL with rentable spaces for other users, hospitality, Community Centre, co-working spaces and informal meeting places
​Architect: KCAP
​Interior Architect: Kraaijvanger Architects
​Collaborators: J.P. van Eesteren / BESIX (construction), Unica (installations), Traject (management and sustainability), Coors (interior construction), DELVA Landscape Architecture & Urbanism (landscape)
Photography: © Ossip van Duivenbode
​Drawings: © KCAP + Kraaijvanger Architects
Note for the editor / not for publication
KCAP is a leading international design firm specialized in architecture, urbanism and landscape architecture. KCAP was founded in 1989 by Kees Christiaanse and is led today by seven partners: Xavier Blaringhem, Jeroen Dirckx, Ruurd Gietema, Anouk Kuitenbrouwer, Irma van Oort, Ute Schneider and Edward Schuurmans. KCAP holds offices in Rotterdam (NL), Zurich (CH) and Shanghai (CN) and works with a staff of more than 125 talented international professionals on a wide range of projects throughout Europe and Asia.
​​
​​
​Tel. +31 10 7890 300
​[email protected]
​www.kcap.eu
Kraaijvanger Architects is an internationally operating architectural firm, founded in 1927 and based in the center of Rotterdam where we work with about 80 professionals on a wide variety of projects. In everything we do, it is our ambition to reconnect people and nature through timeless architecture with a positive social and ecological footprint. The firm's scope shows a wide variety of projects: from revitalization of cities, large public buildings and innovative industries to housing, interiors and specials. We work on buildings that purify the air, share space in surprising ways, are sustainable, provide energy, make people healthier and are 100% reusable.
Mietze Boersma
​Communications and Public Relations
​Tel. +31 10 4989 292
​[email protected]
​www.kraaijvanger.nl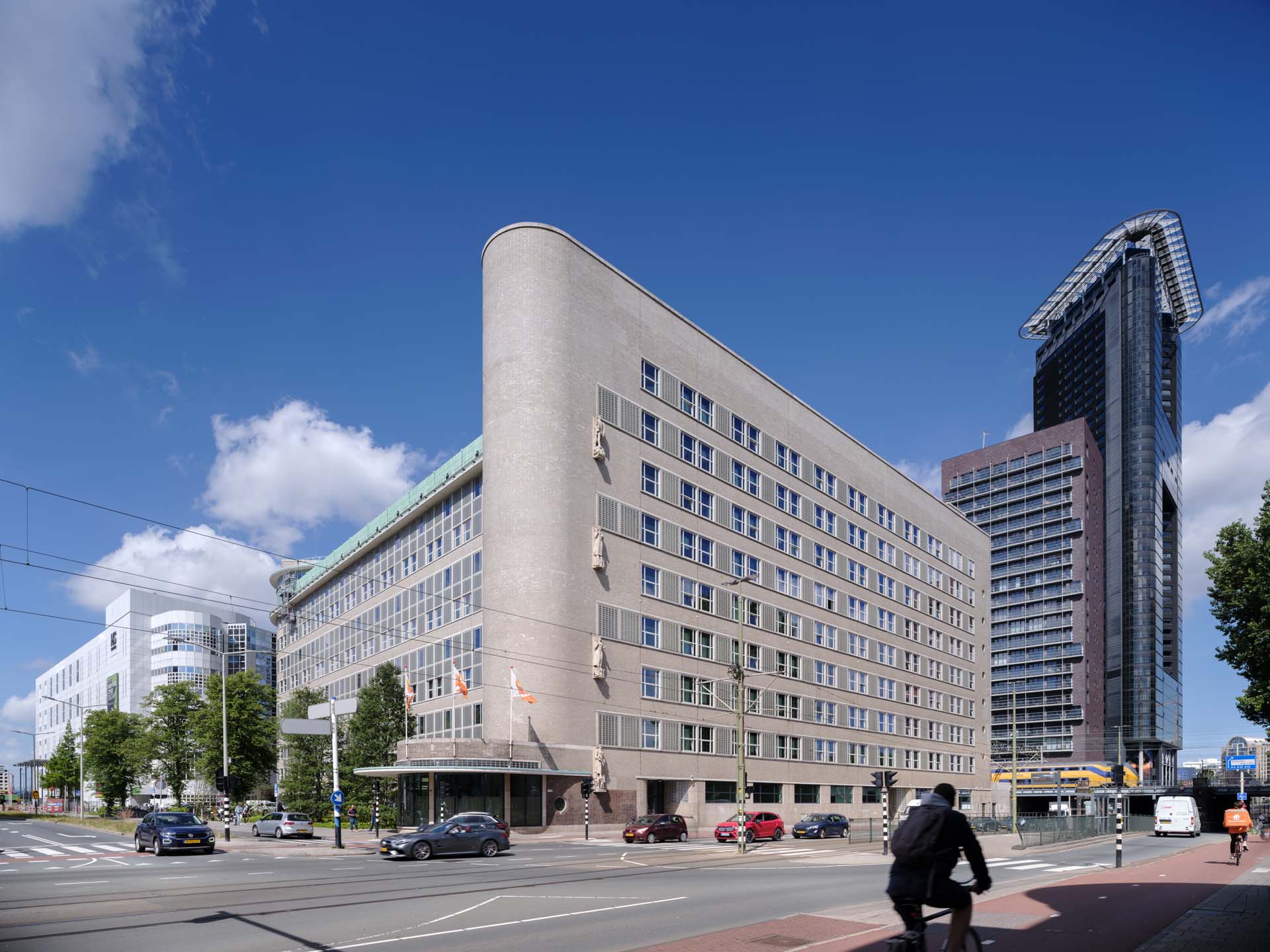 Stationspostgebouw - KCAP
KCAP and Kraaijvanger Architects transformed the Stationspostgebouw, a former postal sorting centre next to the Hollands Spoor train station in The Hague,...
www.kcap.eu
For more projects and press kits, please visit our Press Room: www.kcap.eu/pressroom