Hogekwartier Amersfoort: an affordable, lively and sustainable city district after a masterplan by KCAP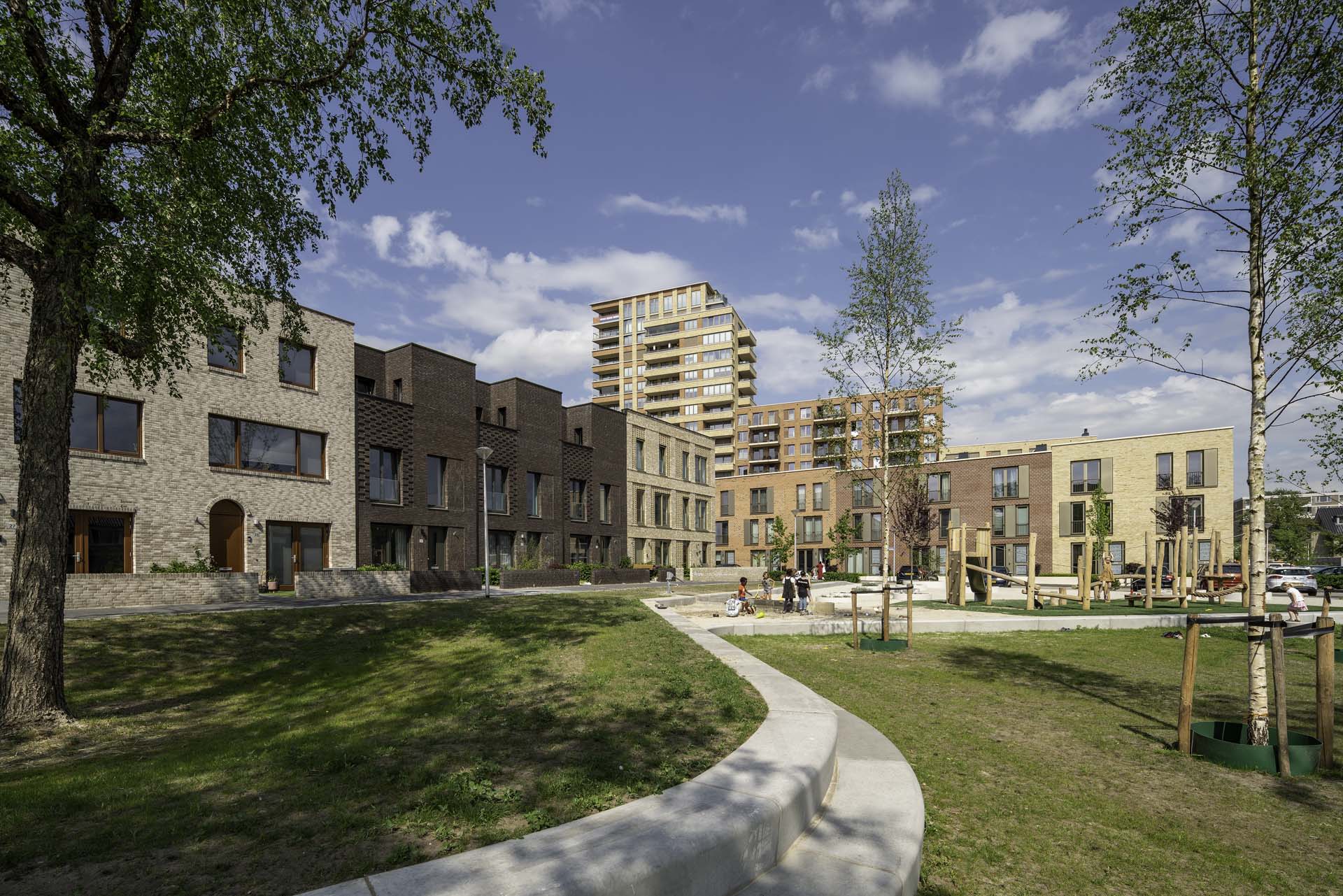 Rotterdam, February 16, 2023 - February saw the festive completion of the Hogekwartier in Amersfoort, the Netherlands. In 2008, KCAP designed the masterplan for this new city district, commissioned by housing corporation De Alliantie and the Municipality. The neighbourhood had to meet a number of requirements: the partially built-up site had to be transformed into a residential area with various types of affordable rentals and owner-occupied houses, surrounded by public spaces and greenery; in addition, there was a clear wish to provide Amersfoort with a proper 'entry', to create a local hub and improve the traffic flow between the city centre and the A28 highway. Furthermore, the masterplan was part of a larger operation to sustainably renovate and renew the existing social housing stock in Amersfoort.
The Hogekwartier lies between the post-war urban expansions Liendert and Schuilenburg. Redevelopment of the site provides a major impetus for the regeneration of these two neighbourhoods. The new district is located on both sides of the Hogeweg, a busy traffic artery that connects the city centre to the highway. KCAP has inserted a raised, intersecting axis - de Buurtas - which creates a compact grade-separated intersection. Transiting traffic moves underground, local traffic stays overhead. A framework of public spaces and landscaping organizes the Hogekwartier into several areas, perpendicular to the Hogeweg; each area has its own character. The road itself will have a classic boulevard setup, with four rows of trees between the lanes and cycle paths. Jeroen Dirckx, partner at KCAP, points out that "this has created a road that not only serves as a traffic artery, but as a lively space and a recognizable entrance to the city."
The Buurtas provides the district with a centre, flanked by a gateway of apartment blocks with neighbourhood facilities in the plinth. It is also where the new Amerena swimming and sports complex is located, which simultaneously serves as a catalyst for the new city district and an eye-catcher that marks the entrance to Amersfoort. In front of Amerena, along the Buurtas, a square has been created. The swimming complex hosts a multitude of functions and fulfils an important role for the city and wider region
The central area of het Hogekwartier is home to a neighbourhood that is in keeping with its surroundings. It is characterised by small-scale urban blocks with different typologies, mainly single-family houses with a garden. A series of connected green, public spaces meanders between the building blocks: courtyards, playgrounds and residential streets with room for shrubs, trees, pedestrians, traffic and parking.
Along the Valleikanaal, the ensemble is completed by four striking towers, marking the transition to the city centre. The towers are set on a plinth of low-rise buildings which match the scale of the adjacent buildings, and are surrounded by a green area with footpaths. The canal's sustainability is improved: widened ecological borders with toad pools in wadis aim to restore and strengthen the water connection. A 'wetland corridor' connects the Valleikanaal to the water catchment area east of the city, making it part of a continuous ecological zone. In addition, the green-blue structure of the Hogekwartier will reduce air pollution, noise pollution and heat stress.
The Hogekwartier has intentionally been made accessible to a wide target group: of the approximately 820 homes, 309 are social rentals. At the same time, more than 60% of the owner-occupied houses are covered by the 'National Mortgage Warranty' - and thus have a maximum market price of 405.000 euros. "The addition of social housing in Amersfoort is important because there is a high demand", said Joan van der Burgt, director of De Alliantie region Amersfoort. One of the key premises was that existing tenants did not have to move from the area. Six outdated corporation flats that were going to be demolished, were first replaced with new housing units elsewhere within the Hogekwartier.
To ensure that the new district would have a real neighbourhood feeling, existing social and urban structures served as a starting point. Even before the renewal started, De Alliantie and the Municipality jointly reached out to the area's inhabitants. Collaboration with residents, neighbourhood partners and interest groups also played a pivotal role when drafting the masterplan. There was an active participation group, which was involved from concept phase to realization. In addition, workshops, sessions with local youth and interviews with residents were organized. Residents Sanne Schussler and Manon van Egmond-Wagenaar confirm that Hogekwartier truly feels like a neighbourhood: "As families with young children, we really like the area's green and child-friendly environment. Everyone can play outside, there's a nice community with great neighbours and we're surrounded by other young families."
KCAP was responsible for both the masterplan and visual quality plan. Jeroen Dirckx was also appointed as supervisor, a role in which he was able to continuously monitor and test developments against the original ambitions. This long involvement in the planning process served as a warranty for the overall quality. "We started 15 years ago and have been continuously involved in developing this complex project. It gives me great satisfaction to see the new district is now completed and making the plan's qualities evident", says Jeroen Dirckx.
A broad palette of developers, investors, architects and landscape architects collaborated on the new neighbourhood, in order to create the diverse and socially inclusive urban district that the Municipality of Amersfoort, De Alliantie and KCAP had in mind. Mayor Lucas Bolsius is very positive about the final result. "In any large-scale urban renewal process, it's very important to play the long game. Not only to serve all interests, but also to keep the final result in mind. And seeing the results now, makes me proud. A new urban district where residents feel at home, enjoying both their own house and their neighbourhood."

​Location: Amersfoort
​Client: De Alliantie
​Jaar: 2008 - 2022
​Status: realised
​Program: Urban redevelopment of post-war neighbourhoods with more than 800 residences, an urban swim and sports complex and design principles for the public space
​Role: Urban planner and supervisor
​Collaborators: Amersfoort Municipality, Province of Utrecht, MTD Landschapsarchitecten
​Architects: NIO, Venhoeven CS, JSA, LEVS, BDG, MOPET, Chris Collaris, Klunder, MOKE, MNNR
​Contracting parties: De Alliantie Ontwikkeling, Trebbe, Lithos, Synchroon, OLCO-Sportsphere
Photography: © Aiste Rakauskaite, © Fred Oosterhuis
​Visuals and drawings: © KCAP, © MTD Landschapsarchitecten
Note for the editor / not for publication
KCAP is a leading international design firm specialized in architecture, urbanism and landscape architecture. KCAP was founded in 1989 by Kees Christiaanse and is led today by seven partners: Xavier Blaringhem, Jeroen Dirckx, Ruurd Gietema, Anouk Kuitenbrouwer, Irma van Oort, Ute Schneider and Edward Schuurmans. KCAP holds offices in Rotterdam (NL), Zurich (CH) and Shanghai (CN) and works with a staff of more than 125 talented international professionals on a wide range of projects throughout Europe and Asia.
​​
​Li-Anne Krol
​Public Relations Manager
​Tel. +31 10 7890 300
​[email protected]
​www.kcap.eu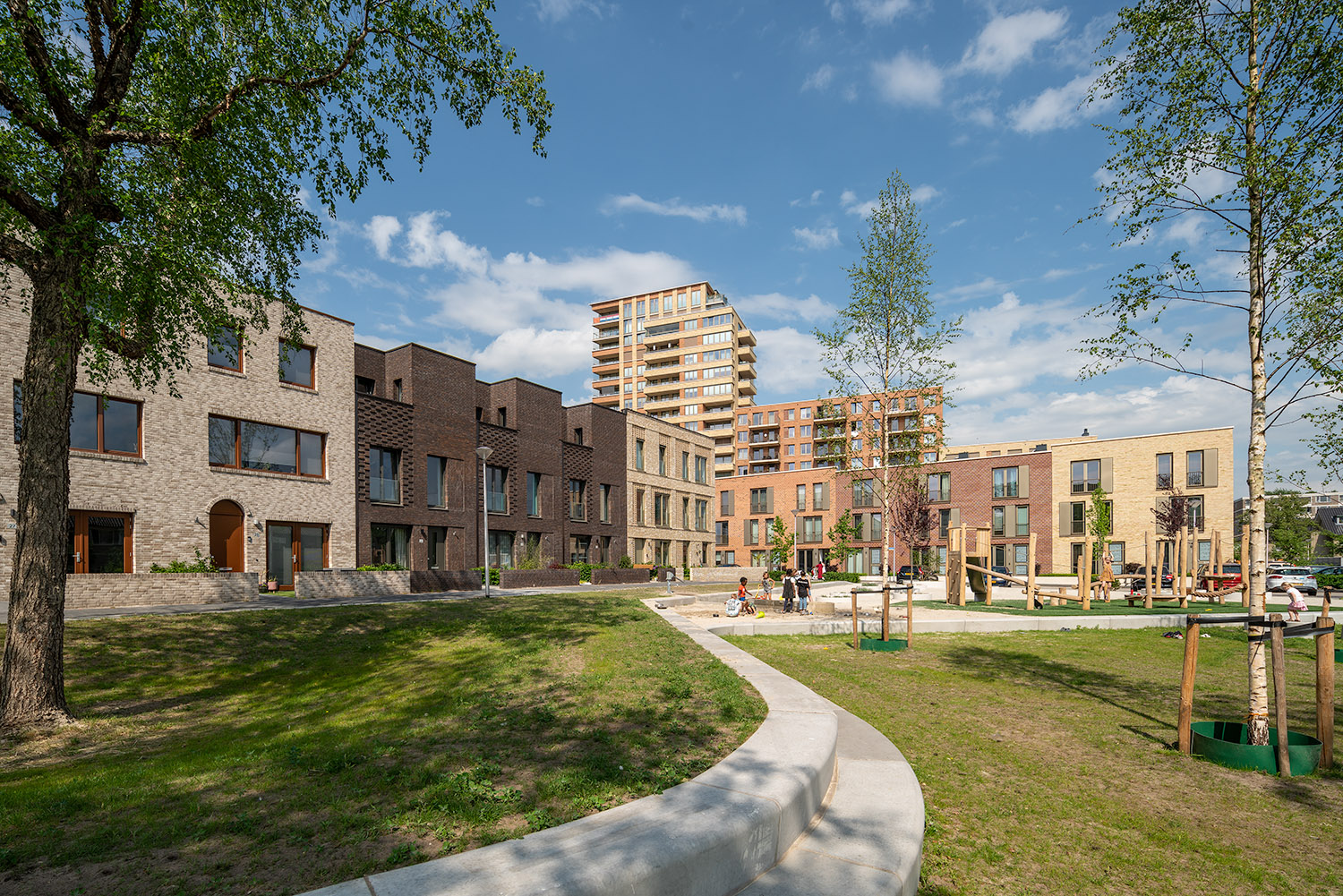 Hogekwartier - KCAP
'Hogekwartier' is the urban redevelopment of the post-war neighbourhoods of Amersfoort. The project is part of a comprehensive approach to improve and ren...
www.kcap.eu
For more projects and press kits, please visit our Press Room: www.kcap.eu/pressroom