Droogbak, a perfect fusion of past and present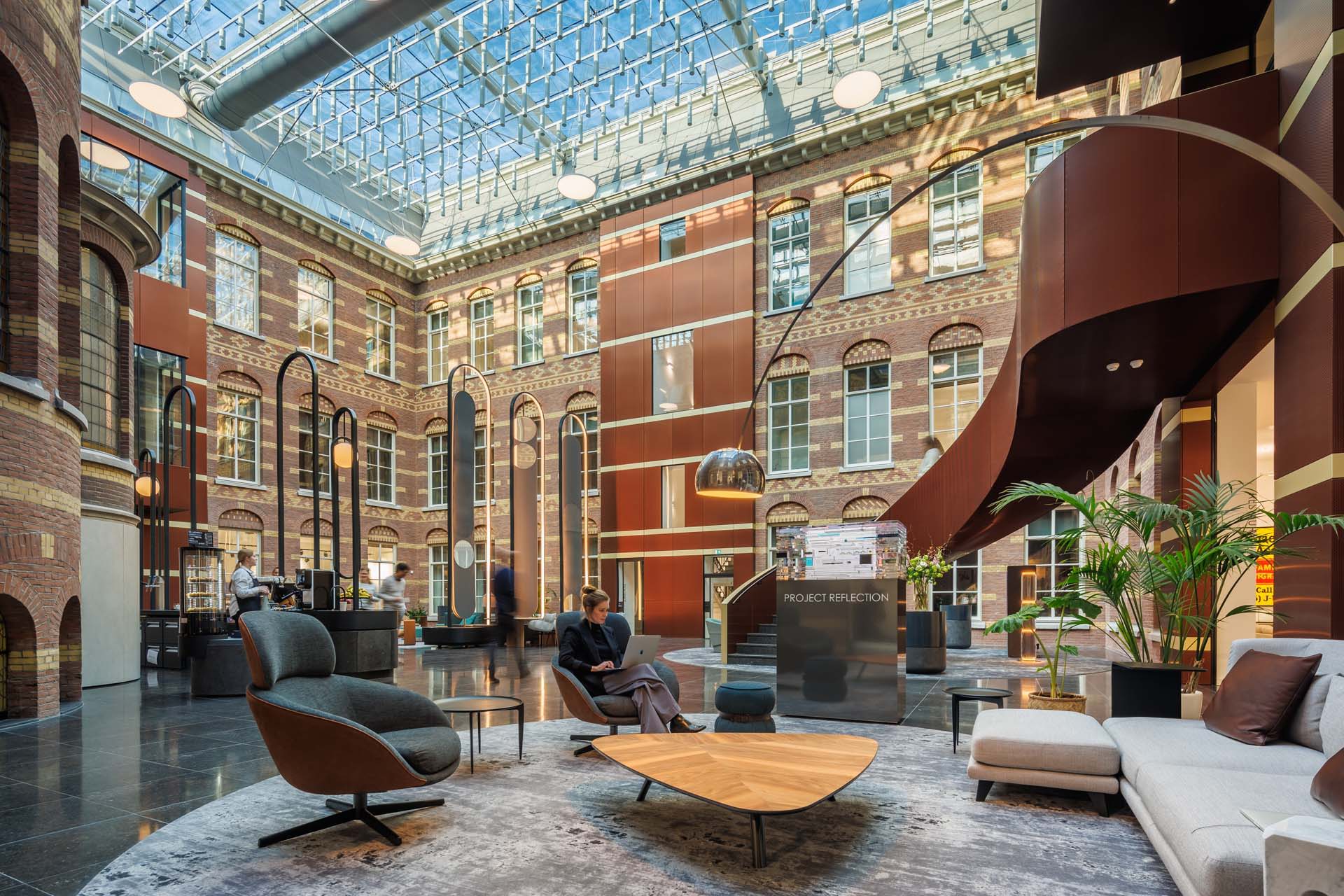 Rotterdam/Delft, June 13, 2022 - Over the past five years Droogbak, an iconic 19th century building next to Amsterdam Central Station, has been transformed into an office space for the 21st century. KCAP was commissioned by Allianz Real Estate, together with consulting engineers ABT, and was responsible for the spatial transformation of the listed building; Fokkema & Partners drew on this in their interior design for law firm Clifford Chance. Focal point was to create a future-proof monument that enables a new way of working.
The neo-Renaissance Droogbak building was designed in 1884 as headquarters for the Hollandse IJzeren Spoorweg Maatschappij (Dutch Iron Railway Company). Over time, the building has had several users, and already underwent an extensive restoration twenty years ago. The current transformation aims to respectfully adapt the building to meet the needs of the contemporary work environment; not only through physical interventions - for example by modernizing the internal climate and acoustics - but above all by enabling a new way of working, in which informal encounters and social interaction take center stage. The transformation is characterized by delicate but impactful interventions; original elements have been preserved and made visible wherever possible, while spatial and visual connections within the building have been improved and expanded.
During the previous restoration, the central courtyard had been covered and converted into a library. KCAP reactivated this space: the bright, glass-covered atrium has been given a new life as a dynamic and animated place for meeting, interaction and exchange, and serves as a crucial node in the building's new routing. Additional staircases provide access to the upper floors and the restaurant in the basement, while bay windows and balconies reinforce the visual relationships between floors and with the atrium - a place to see and be seen. "The atrium is the heart of Droogbak and serves as the 'starting point' of the transformation concept, both literally and figuratively. It offers a new dynamic and a new way of working, with respect for the historical architecture", says Irma van Oort, partner at KCAP. "A perfect fusion of past and present."
A sculptural spiral staircase in anodized aluminum serves as an eye-catcher within the atrium. This staircase, which runs to the second floor, is more than just a vertical connection; it allows for informal encounters and connects a series of mini-hubs located on the building's interior facade. These mini-hubs are equipped with glass skyboxes which overlook the liveliness of the atrium. The spiral staircase is a visual representation of Droogbak's transformation: a constructive addition that enables social interaction. "Spatial, functional and technical modifications have transformed Droogbak into a contemporary office, while preserving its monumental values. The user experience is that of a comfortable, safe and inspiring working environment", says Kobus van der Zwaal, consultant at ABT.
The interior design by Fokkema & Partners adds to this by creating spaciousness, openness and intimacy, and offers a playful interpretation of the building's historical features. For example, the design of the architectural elements in the atrium loosely refers to the neo-Renaissance interior façade. By applying pronounced color planes, the period rooms, with their original details, are transformed into a modern office environment; planes in a historical ochre tone mark new corridors in the richly ornamented hallways. The top floor, with its original wooden rafters, has been kept free of partitions and is organized in different 'home zones'. Opening up this space further reveals the quality of the monument and creates a panoramic view of the city. "Droogbak's new interior offers a strikingly contemporary user experience; an experience that finds its origins in the stately architecture, but also offers new perspectives. Maximum effect has been achieved with minimal impact on the monumental interior", says Laura Atsma, partner at Fokkema & Partners.
The spatial transformation by KCAP and ABT, combined with the harmonious interior design by Fokkema & Partners, has transformed Droogbak into a future-proof yet familiar home for Clifford Chance Amsterdam.
​​
​​
​Location: Amsterdam, the Netherlands
​Client transformation (KCAP and ABT): Allianz Real Estate
​Client interior (Fokkema & Partners): Clifford Chance Amsterdam
​Year: 2016 – 2022
​Status: Realised
​Program: 12.000 m2 renovation and transformation of monumental office building of international law firm Clifford Chance Amsterdam, with restaurant, common spaces, technical areas and parking
​Architect: KCAP
​Interior Architect: Fokkema & Partners
​Structural engineer, installation consultant and building physics consultant: ABT consulting engineers
​Collaborators transformation: Van de Poel onderzoek & advies (asbestos); Bureau Monumenten en Archeologie (BMA, historical survey/valuation); Josephine & Co. (historical colour survey); Arcadis (consultant to the client); Heijmans (contractor); Jurriens (restoration)
​Collaborators interior: DEV_real estate (advisor to the users), Boersema (engineering, advisor to the user), Smeulders Interieurgroep and Verwol Interieurbouw (realisation interior), Desque (project design)
Photography: © Bram Vreugdenhil
​Drawings: © KCAP + Fokkema & Partners
Note for the editor / not for publication
KCAP is a leading international design firm specialised in architecture, urbanism and landscape architecture. KCAP was founded in 1989 by Kees Christiaanse and is led today by seven partners: Xavier Blaringhem, Jeroen Dirckx, Ruurd Gietema, Anouk Kuitenbrouwer, Irma van Oort, Ute Schneider and Edward Schuurmans. KCAP holds offices in Rotterdam (NL), Zurich (CH) and Shanghai (CN) and works with a staff of more than 125 talented international professionals on a wide range of projects throughout Europe and Asia.
​​
​Li-Anne Krol
​Public Relations Manager
​Tel. +31 10 7890 300
​[email protected]
​www.kcap.eu
Fokkema & Partners Architecten puts the user at the center of its identity-rich and future-proof spatial designs. Since its founding in 1995, the firm has designed the work environment of more than 100,000 people and public spaces including city halls and universities. The assignments include building interiors, renovations, building transformations and sustainable new construction projects, each approached from the design philosophy of connecting the context, people and the larger story of an organization. The office works from the inside out, searching for the perfect synthesis between materialization, construction, nature and environment. Well-being and health are our guiding principles.
Iris de Jong
​PR & Communications
​T: +31 6 2917 0552
​[email protected]
​www.fokkema-partners.nl
ABT as an independent consultancy provides added value to the built environment. For both new and existing buildings. Based on our versatile knowledge of technology and process, we explore the limits of what is possible together with our clients. With about 300 employees, we focus on integral advice in the knowledge areas of constructions, civil engineering, construction engineering and building physics. We also specialize in design, project and construction site management. Through collaboration between these areas of expertise, we arrive at high-quality, sustainable and innovative solutions.
Gea Peek
​Communications Advisor
​Tel. +31 15 767 6783
​[email protected]
​www.abt.eu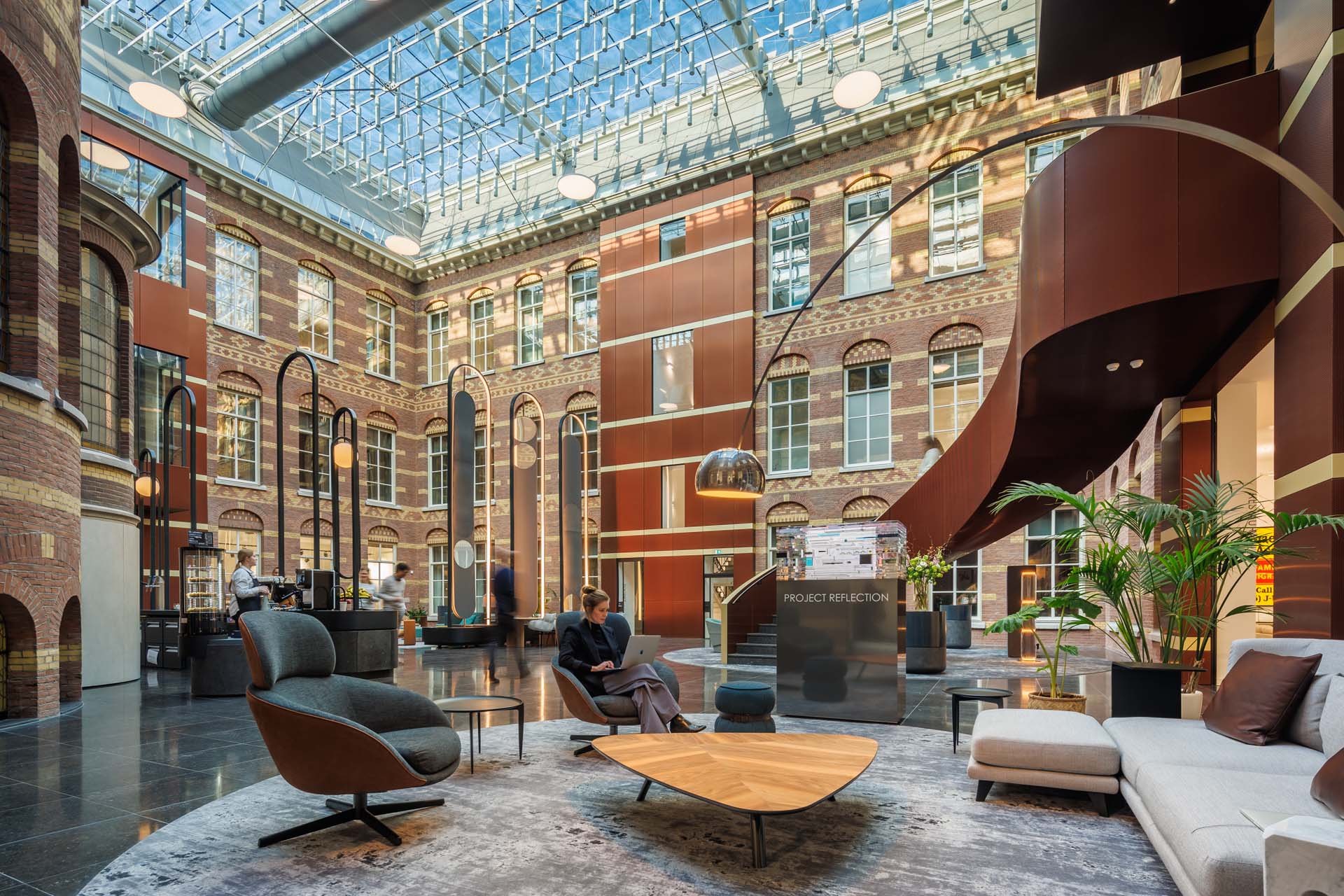 Droogbak Amsterdam - KCAP
Over the past five years Droogbak, an iconic 19th century building next to Amsterdam Central Station, has been transformed into an office space for the 21...
www.kcap.eu
For more projects and press kits, please visit our Press Room: www.kcap.eu/pressroom